July 2017 Event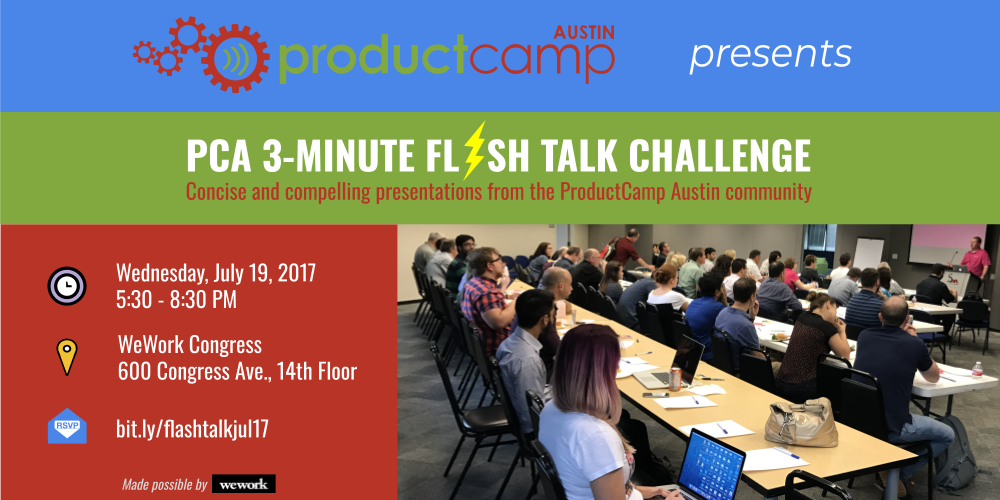 WHAT: PCA 3-Minute Flash Talk Challenge
WHEN: Wednesday, July 19th, 2017, 5:30 pm - 8:30 pm
WHERE: WeWork Congress @ 600 Congress Ave., 14th Floor

DESCRIPTION
Whether you're a product manager presenting the vision for your product or a product marketer training on new launch messaging, effective communication is critical for success and career advancement. If you want to develop your skills and challenge yourself to get an idea across in 3 minutes in an informal relaxed environment, ProductCamp Austin Flash Talks are for you!
SCHEDULE
5:30 pm Doors open, Pre-event networking, Snacks, AV setup
6:00 pm Welcome and Flash Talks Start
8:00 pm Post-event networking, stay as long as you like!

Presenters must arrive by 5:50pm or your talk may be disqualified from the competition.
WHAT ARE PCA FLASH TALKS?
PCA Flash Talks are 3 minute presentations where you present 12 slides, talking to each slide for 15 seconds. The slides automatically advance after 15 seconds, so it's a great way to work on communicating key ideas in a concise and compelling way.
WHAT SHOULD I PRESENT ON?
Choose a professional topic that you're passionate about and come ready to present and get feedback. Slides should include the topic of your title, an introduction of who you are, and the presentation slides. The individual with the most effective presentation, voted by your peers, will get a $50 gift certificate so bring your A game!
WHERE DO I SIGN UP TO PARTICIPATE?
Send your 12 slides via email to flashtalk@productcampaustin.org by Friday, July 14. The first 30 slide submissions will be entered into the competition, so make sure you submit your slides on time to qualify.
QUESTIONS?
If you have any questions, please contact Shauna Steib at flashtalk@productcampaustin.org.
ProductCamp Austin 19 (PCA19)
Save the date: PCA19 is August 19, 2017
Volunteer Sign Up
All ProductCamp events and un-conferences are organized completely by volunteers - other Product Managers who want to get involved in the community, just like you! We always need your help to successfully put on each event, please sign up today!